Posted by Becky U. (BSD Esthetician) on 16th Apr 2021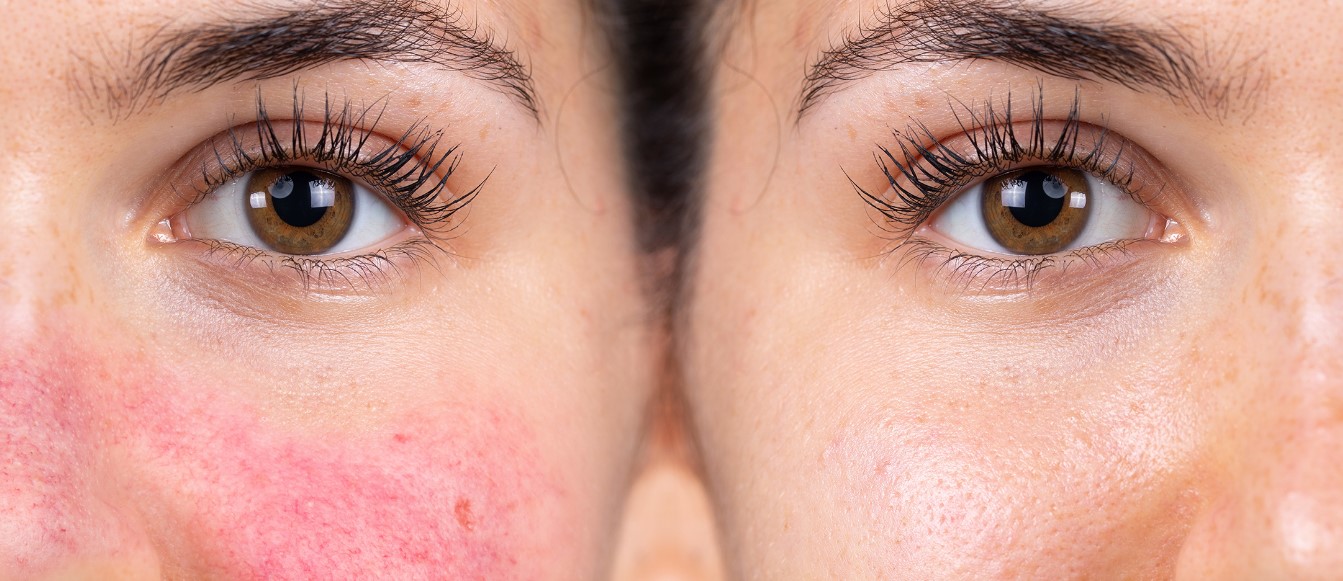 April is Rosacea Awareness Month, but what is it anyway?
Rosacea (roe-ZAY-she-uh) is a common skin condition that causes redness and visible blood vessels in your face. It may also produce small, red, pus-filled bumps. These signs and symptoms may flare up for weeks to months and then go away for a while. Rosacea can be mistaken for acne, other skin problems, or natural ruddiness.
Rosacea can affect anyone, but it is most common in middle-aged women who have light skin. There is no cure for rosacea, but treating it with the right products can control and reduce the signs and symptoms. These include facial redness, swollen or red bumps, eye problems, and an enlarged nose. These symptoms may be caused by hot drinks and spicy foods, red wine and other alcoholic beverages, temperature extremes, sunlight or wind, emotions, exercise, drugs that dilate blood vessels, including some blood pressure medication as well as various cosmetic products.
Luckily, we offer some amazing products with the highest quality ingredients to help calm, soothe, and treat this skin condition! Check them out below!
Recommended beautystoredepot.com Products:
Glymed Plus Cell Science Rosacea Relief
Pevonia Botanica RS2 Gentle Cleanser
Pevonia Botanica RS2 Care Cream
Pevonia Botanica RS2 Concentrate
Jan Marini Rosalieve Redness Reducing Complex
Avene Antirougeurs CALM Redness-Relief Soothing Mask
PCA Skin Dual Action Redness Relief
Elaine Gregg Keep It Calm Relief Serum
G.M. Collin Sensiderm Soothing Mist
G.M. Collin Sensiderm Cleansing Milk
CosMedix C.P.R. Skin Recovery Serum
Glo skin Beauty Redness Relief Powder
G.M. Collin Vasco-Tonic Concentrate
Dermalogica UltraCalming Serum Concentrate
Jan Marini Rosalieve Redness Reducing Complex
Sircuit Skin Nineoneone Calming Serum
Jan Marini Age Intervention Gentle Cleanser
iS Clinical Pro Heal Serum Advance+
GlyMed Plus Age Management Intense Peptide Recovery Complex