Dandruff: Causes and Treatments
Dandruff can appear in many forms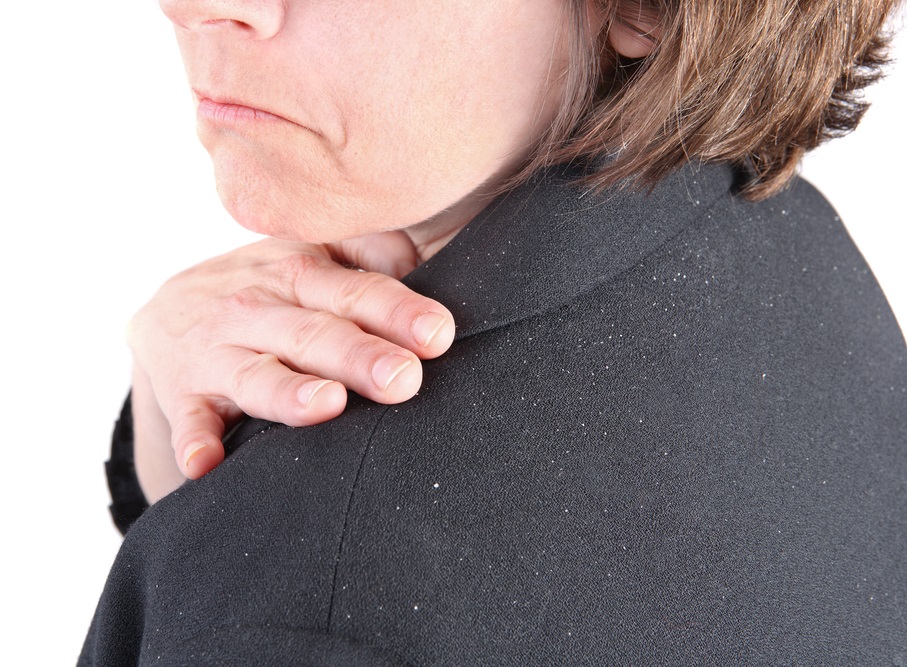 and for many reasons. It can be embarrassing and irritating, but you don't have to hide from it. Arm yourself with knowledge and our tips and you'll soon have a clear scalp and flake-free hair.
Types and Causes of Dandruff
Dry Skin: If you notice dry areas on your face and body and begin to see small flakes in your hair, it can simply mean that your scalp is not getting enough moisture. This is especially common during the winter.
Irritated Oily Skin: Often referred to as seborrheic dermatitis, this is the most common form of dandruff. You will notice red, greasy skin, scattered with white or yellow flakes. This form of dandruff can also occur in other areas containing oil glands, like your eyebrows and armpits. It can occur for many different reasons like climate change, hormonal imbalances, increased oil production, stress or fatigue or simply not washing the hair properly.
Styling Products: Using too many products or products that dry out your hair and scalp can cause flaking. Some of this flaking may be actual skin cells that are irritated or your excess product is flaking, causing the appearance of dandruff. Lighter formulas, like American Crew Light Hold Styling Gel is alcohol-free and specially formulated to condition and protect the scalp, providing a light flake-free style.
Not Washing Often Enough: Dirty hair can cause a buildup of oil and cells, resulting in dandruff.
Eczema: If eczema affects other areas of your body, it is likely to also increase shedding of the scalp, giving the appearance of dandruff.
Psoriasis: Though it usually occurs on the body, these thick, plaque-like scales can also affect the scalp. Avene Akerat S Psoriasis Skin Cream is a spot treatment with potent Urea and Salicylic Acid to hydrate and exfoliate the scalp.
Fungal Infection: Though not as common, a fungal infection can occur on your scalp, causing an increase in skin cells. When these excess skin cells die, they flake off, giving the appearance of dandruff.
Common Active Ingredients in Dandruff Treatments:
Salicylic Acid: exfoliates to remove dead skin cells and flakes, keep oil ducts clear.
Lactic Acid: exfoliates and retexturizes
Pyrithione Zinc: antifungal and antibacterial
Menthol: soothes and cools irritation
Tea Tree Oil: antifungal, antibacterial, antiseptic
Tips for controlling and preventing dandruff:
Use an anti-dandruff shampoo: To achieve the best results, follow the product's directions precisely. Phyto Phytheol Intense Anti-Dandruff Shampoo, a best-seller, treats all forms of dandruff, whether due to dry skin, oily scalp, eczema or psoriasis. It soothes itchiness and irritation, treats current dandruff and prevents new flakes from forming.
Lather, rinse, repeat: To fight dandruff, shampoo once, then rinse. When applying shampoo for the second time, firmly rub your scalp as you shampoo to encourage the removal of dead skin cells. However, do not rub so hard that you irritate your scalp.
Wait before rinsing: Many dandruff shampoos will recommend that you let the product sit in before rinsing out. This will aid in reaching optimum results.
Be sure to rinse well: If you've loosened up skin cells with shampooing, you want to be sure to rinse them away.
Use a purifying scalp treatment: Whether your dandruff is caused by a dry, irritated, itchy scalp, oily scalp, or psoriasis, you may also benefit from a scalp treatment like Phyto Phytopolleine Scalp Stimulant Elixir, which purifies and strengthens the scalp.