10 Hair Myths Revealed
Many hair tips and tricks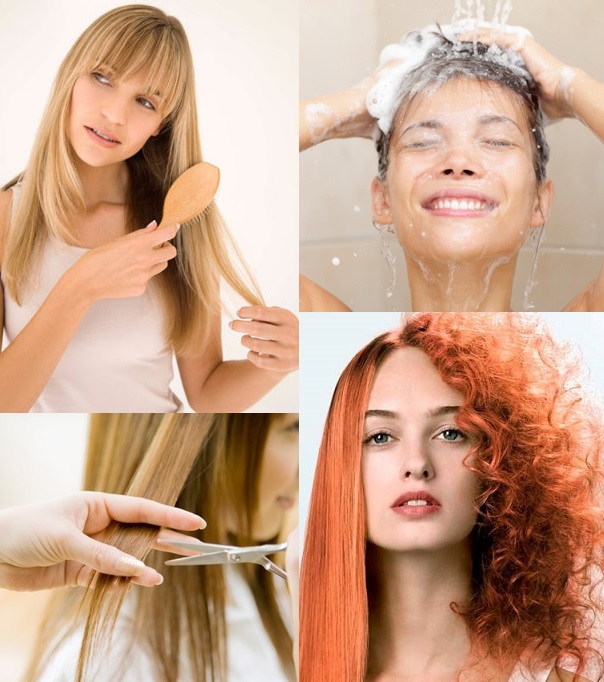 have been around for years. While some tips are tried and true, many are flat out false. We're revealing these myths to set the record straight and give you our professional recommendations.
Myth 1: You should wash your hair every day.
Reason: Washing your hair everyday can strip its natural oils, actually causing an increase in oil production, giving hair a greasy look.
Recommendation: It doesn't mean that washing less often will make your hair less oily. Try to wash your hair every 2-3 days. If you feel that your hair is so oily that it requires washing more often, switch to an oil regulating shampoo. We suggest alternating between Phyto Phytopanama Shampoo, which can be used daily to regulate oil, and Phyto Phytocedrat Sebo-Regulating Shampoo, an intense treatment shampoo used once to twice a week to deep clean the scalp and keep oil from migrating to hair. Or if your scalp is still fairly clean and you want to increase the life of your blowout, use a dry shampoo, like gloEssentials Re-Energize Dry Shampoo, to soak up any excess oil or odor.
Myth 2: It's essential to rotate your shampoos for effective use.
Reason: If you're using the right shampoo for your hair type, there is no need to switch.
Recommendation: If you're still achieving the desired results, changing your shampoo isn't necessary. However, if you notice your hair is looking dull, thinner or oilier, this could be due to climate or hormonal changes, or even changes to your water so you would need to find another shampoo specifically for your needs. When changing your shampoo, stay within the same product line for a smoother transition and best results.
Myth 3: Washing with cold water will increase shine.
Reason: It may offer a small improvement, but nothing major or permanent.
Recommendation: Your hair is most likely dull from damage, harsh water or a health condition. As high heat can dry and damage hair, try washing with lukewarm water every now and then to promote circulation, and use a thermal protectant when using heated styling tools. Also, blow dry with your nozzle pointed down, to smooth and seal the hair cuticle. To add shine, use a shine enhancing shampoo, conditioner or styling product. Rusk offers a variety of shine enhancing products with their DeepShine Collection to address multiple hair concerns while giving you shiny, healthy hair.
Myth 4: If you have oily hair, you shouldn't use conditioner
Reason: Oiliness occurs on the scalp and is caused by heredity, hormones and diet, so conditioner applied to the hair will not affect this.
Recommendation: Use a lightweight conditioner, focusing on the ends of hair which are typically drier and more damaged.
Myth 5: Constantly brushing hair will make it shinier and healthier.
Reason: Many brushes can actually damage the hair, causing breakage, especially if used on wet hair.
Recommendation: Only brush when it's really necessary, and if brushing wet hair, use a special brush like Macadamia No Tangle Brush, made specifically to detangle wet hair without damage.
Myth 6: It is best to brush or comb hair from top to bottom.
Reason: While you need to detangle all over, you should start at the bottom where knots and tangles usually occur.
Recommendation: If your hair is prone to tangles, try a deep conditioner or styling aid to detangle hair. Applying a deep conditioner or mask while in the shower and gently combing through with a wide tooth comb will evenly distribute the product to promote healthy hair. We've also got great detangling sprays just for kids.
Myth 7: Regular trimming will make your hair grow faster.
Reason: Hair grows from your roots, not the ends so trimming will not increase hair growth. However, trimming can help get rid of any unhealthy split ends or damage, and when hair looks healthy, it can appear longer.
Recommendation: If you simply enjoy the fresh cut feeling, no need to stop. If you're truly looking to encourage hair growth, check out best seller Phytophanere that encourages healthy hair and nail growth from within. We have additional treatments for more severe Hair Loss & Thinning.
Myth 8: Pulling out your gray hair will cause more gray hair to grow.
Reason: Gray hair occurs when the hair follicle stops creating pigment. Also, your hair follicles contain a predetermined amount of fibers and plucking out gray hair will not change this.
Recommendation: While plucking won't encourage more gray hair, it will damage your scalp. When you constantly pull hairs out at the root, you can cause the hair to never grow back. Getting your hair professionally colored will help hide unwanted grays. Tinted dry shampoo is also a quick, temporary fix. If you're really worried about going gray, you can try to prevent it by using a scalp treatment like Phytodensium Anti-Aging Serum, which is packed full of vitamins and tyrosine that will boost the level of pigment in the hair shaft.
Myth 9: Sunlight is the safest way to lighten your hair color.
Reason: Exposure to sun can damage hair and skin, drying it out or worse, causing a sunburn.
Recommendation: If you're interested in a lighter hair color, book an appointment with an experienced hair stylist. If your existing highlights or gray hair are looking dull or brassy, you can combat it with the Blondeshell line from Keratin Complex.
Myth 10: You will always have the same hair texture.
Reason: Many factors can alter hair's texture including stress, hormonal changes, age, and medication.
Recommendation: While it's unlikely to fight these changes, embrace them and be sure to update your hair regimen for your new hair texture.