How to Determine Your Undertones
Do you struggle to find the best makeup color for your skin tone?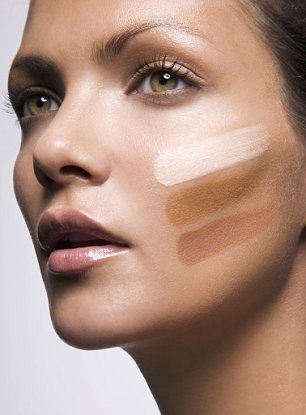 Do you look back at pictures of yourself and notice that you maybe look orange or just "off" somehow? By choosing shades that naturally work with your skin tone, you'll enhance your natural beauty. We hope to make this easier for you with our tips on figuring out your undertones.
While your surface skin tone may be porcelain, ivory, golden or cocoa, your undertones are just below the surface. Undertones are warm, cool or neutral.
To begin, ask yourself these questions:
Can you see an obvious yellow tone in your skin or a rosy or blue tone?
Look at the veins on the inside of your arm. Do they appear bluish purple, bluish green or yellow/olive? This test is easier if you hold your arm up to a blank white sheet of paper.
If you're out in the sun and forget your sunscreen, do you tend to tan or burn easily?
In eye shadow, clothing and jewelry do you look better in (not what colors you just like better):

Earth Tones like olive, orange, brown and Warm Metals like gold, bronze, copper?
OR Jewel Tones like royal blue, emerald green, purple and Cool Metals/Neutrals like silver, white, gray?
If you see a yellow tone to your skin, your skin tans more easily, your veins have an olive or yellow tone, and you look better in warm, earth tones and metals, then you have warm yellow, golden or peach undertones.
If you see a blue or rosy tone to your skin, your skin tends to sunburn, your veins appear blue or purple, and you look better in cool or jewel tones, then you have cool pink, red or blue undertones.
If you see more of an olive or green tone to your skin, your veins appear yellow or olive, and all shades of eye shadow, clothing and jewelry look good on you, you may have neutral undertones. Neutral undertones have the benefit of looking great in every shade.
Yellow undertones are most common, whereas darker, more pigmented skin tends to have either yellow undertones (lighter skin) or red undertones (darker skin). Being fair or tan doesn't necessarily mean you are one undertone versus another.
How to find your correct makeup shade:
When choosing foundation: Warm undertones look best with a yellow or peach based shade. Cool undertones look best with a neutral or pink based shade.
When choosing lipstick: Choose a shade with a similar undertone as your skin. For example, a blue-based red lipstick will complement a Cool Undertone, while an orange-based red lipstick will complement a Warm Undertone.
When choosing blush: Choose a shade that works with your skin tone, not against it. For example, if you have a natural rosy hue, opt for a rosy or pink blush. If you have a warm undertone, go with a coral or peach based blush.
When choosing eye shadow: You can follow the same rules, warm earth tones for warm undertones and cool or jewel tones for cool undertones; eye shadow gives you a little more variety though and you can utilize it to also compliment your eyes or flaunt the latest trend.
We recommend that you follow this guidance, though feel free to try the latest trends and colors. Ultimately, trust what you see. If your makeup doesn't help you look or feel your best – don't wear it!