Sircuit Skin Youth Accelerator+ Pumpkin Enzyme Peel
Availability:

Usually Ships in 1 day & 60 Day Returns

Shipping:

Free Standard Shipping (2-5 days)
Sircuit Skin Youth Accelerator+Pumpkin Enzyme Peel 1.3 oz
Youth Accelerator+ is an all-natural pumpkin enzyme peel that's rich in anti-aging and skin perfecting nutrients. This unique formula with powerful antioxidant properties is intensive therapy that targets the skin receptors, helping to minimize the free radical damage that can result in accelerated aging. The natural pumpkin enzymes also aid in exfoliating dead skin cells and impurities, while at the same time delivering vitamins and nutrients to the skin. Protein rich Albumen helps to condition the skin, ensuring it stays luscious and soft. The results? Younger, healthier looking skin and a more vibrant complexion. Skin Type: Suitable for all skin types especially aging, oily and/or problem skin types and those with hyperpigmentation.
Benefits:
Enzymes gently slough the buildup of dead skin cells.
Stimulates new skin cell production for a renewed complexion.
Imparts essential antioxidants to improve skin health.
Combats congestion, blackheads and blemishes.
Increases formation of collagen and elastin.
Minimizes the effects of free radical damage.
Decreases fine lines and improves skin texture.

Free of artificial preservatives, colors, or frangrance, and always cruelty free.

Directions for Use:
Use once a week, on clean skin but not on the same day as using Sir Activ scrub. Using a spatula (to avoid contamination), scoop out a small amount in the palm of your hand and smooth a thin layer gently over your face, avoiding the eye area. Leave on for 10 to 15 minutes. Gently rinse with warm water ensuring all traces of the peel are removed. Follow with Sircuit Addict, Sircuit O.M.G., or Sircuit Weapon serums. For added benefits, Molecular Mist and Dreamweaver may be applied as part of your daily home treatment program.
Caution:
For external use only. Please avoid contact with eyes and keep out of the reach of children.
Sunburn Alert:
This product is a peel any may increase your skin's sensitivity to the sun. Use a sunscreen and limit sun exposure while using this product and for a week afterward.
Frequently Asked Questions:
Why doesn't the pumpkin mask dry like the other masks I've tried? Unlike traditional clay masks, not only does the Youth Accelerator pore refiner mask not dry, but also it doesn't create unnecessary drying in your skin. We suggest leaving it on until it becomes the texture of a fruit roll-up to get the benefits of this enzyme mask rich in Vitamin A.
When should I use Youth Accelerator? Youth Accelerator can be used once a week, but not on a day you use Sir-Activ. It's tempting to use frequently (we all enjoy a skin treat), but once a week will give your skin the vitamins and minerals it needs, while leaving you with a more vibrant complexion.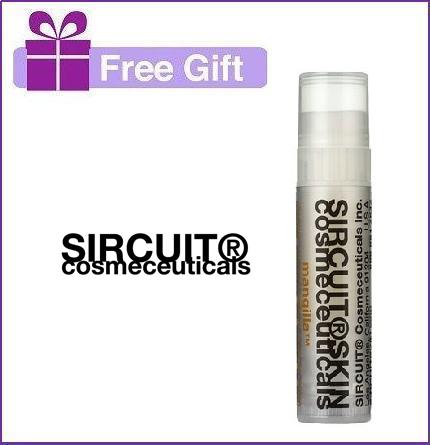 FREE GIFT!
Purchase $125 or more in Sircuit products and get a FREE Sircuit Mangilla Lip Balm- fulll size
A $7.50 Value!
Product Reviews (3 Reviews)
This yummy product is always in my arsenal of things I use weekly on my skin.
When I am a little tired and maybe a bit tired looking ,Ice this Pumpkin Peel and let the enzymes in it go to work for me.
Five minutes later I look refreshed and ready to go.!!!!
Another no brainer product from Sircuit Skin !!!! Love it


I totally agree with Gina's review. I've tried many mask and been disappointed with a 'nothing/waste of money' result but with this product you feel and see the difference immdieiately. I don't go out on the town without using this product first to 'get glowing skin' on which to put my make up. It makes your skin feel completely fresh and clean.

GREAT enzyme mask/treatment

I have tried a ton of masks/enzyme treatments, but this one if by far the best. After one treatment there was a very noticeable difference on my skin.