Availability:

Usually Ships in 1 day & 60 Day Returns

Shipping:

Free Standard Shipping (2-5 days)
Sircuit Skin Oraia 1 oz
Introducing the new and improved Oraia 42 daily use treatment program for beautiful skin. The secret is finally out...from the Doctors office directly to you. This powerful daily cocktail of 22 potent ingredients will make you absolutely love your skin. Oraia's 42-day treatment program is made from fresh highly active and effective ingredients. This is a serious, intensive anti-aging skin re-generation treatment program - many notice results from the very first application.
Oraia's new and improved formula is now more powerful and better able to address the specific needs of aging skin and help restore it to its youthful beauty. Made from fresh, highly active and potent ingredients, this daily treatment program is unlike anything you may have seen or tried. Use it daily for 6 weeks to achieve absolutely amazing results.
Oraia completely addresses the needs of aging skin with powerful, active ingredients and instead of just depending on one or two star antioxidants or star ingredients to do the job, is perfectly blended with a full complement of proven, firming, protective, skin strengthening, and skin perfecting ingredients to control the many different types and causes of free radical damage and aging resulting with absolutely beautiful, healthy skin!
In other words, just as certain antibiotics work best against specific bacteria, certain antioxidants work best against specific free radicals. So, in order to have the maximum antioxidant protection against the various causes and types of free radicals, it is best to have a full complement of different types of antioxidants.
In addition to the antioxidants, the new Oraia formula now contains the instant firming and anti-aging action of Instalift Goji as well as the protective and collagen-supporting ingredient, Tetrahexyldecyl Ascorbate.
We've also included Palmitoyl Tripeptide-5 (Syn-Coll) in this new, improved formula to help iron out wrinkles. Syn-Coll has an excellent collagen building capacity; skin firming, and moisturizing ability.
Oraia is unlike anything you have ever tried!
Featured Ingredients Include:
Lycium Barbarum (Goji Berry) Fruit Extract - (Instalift Goji) for long term anti-aging benefits and instant firming. Extracted from the extremely nutritious and antioxidant rich goji berry. An isolated active glycopeptide fraction, which combines the skin lifting and firming strength of both proteins and polysaccharides. This goji glycopeptide fraction forms a perfect rigid lifting mesh to support sagging and wrinkled skin for creating an immediate visible appearance of lifting. Goji glycopeptides further offers critical long-term anti-aging functions via: MMP inhibition, antioxidant activity, anti-apoptotic, and collagen stimulatory activity for a complete anti-aging treatment.
Palmitoyl Tripeptide-5 - Syn-Coll, - Iron out wrinkles. A small peptide with a unique sequence to mimic the human body's own mechanism to produce collagen. Has shown to have excellent collagen building capacity, skin firming, and moisturizing. Can be considered an effective alternative to collagen injections. Anti-wrinkle. Anti-aging.
Quercetin - Applied topically, it will protect skin cells from oxidative stress induced by glutathione depletion, It also inhibits membrane lipid of skin cells from peroxidation when exposed to UV light. Another interesting property of quercetin is its anti-elastase activity, i.e. it inhibits the activity of the endogenous enzyme responsible for the breakdown of elastin, a component crucial to skin elasticity. Antioxidant.
Tetrahexyldecyl Ascorbate - A stable oil soluble form of Vitamin C. Protects against damage done by UV, an MMPI, helps produce and protect collagen, clarifies and helps clear blemishes, protects DNA, brightening, Anti-Aging.
Tocopheryl Acetate (D-alpha) - chirally correct form of Vitamin E. (It is worth noting that other, non-chirally correct forms can cause allergenic reactions). Protective antioxidant that stimulates the immune system. The ozone present in polluted air decreases Vitamin E content in the stratum corneum, accelerating oxidation and destruction of membrane lipids, which in turn causes skin problems. This is why it is important to apply chirally correct D-alpha tocopherol topically to replenish the Vitamin E lost by the action of ozone on skin.
Superoxide Dismutase (L) - The role of SOD is to eliminate the free radicals resulting from lipid peroxidation and to prevent the chain reactions that would eventually reach deeply into the skin, and topical application of SOD will certainly help to achieve this aim.
D-Boldine Peumus Boldus Leaf Extract - Very calming, helps protect against damage to the skin from UV rays. Soothing with anti-microbial properties.
Resveratrol (Wine Extract - from red wine. Potent antioxidant, rich in polyphenols with skin protective and anti-aging abilities. Proven contributor to younger-looking skin. Anti-aging. Sirtuin.
Always free of artificial color, artificial fragrance and chemical preservatives and of course, cruelty free. Made in the USA.
Directions:
Apply to clean skin. May be used over face, neck, decollete and around eye area. Extra dry skin may feel the need to follow with moisturizer.
Oraia is a treatment serum. It is formulated to be used daily (either once or twice a day) until the bottle is finished (approximately 42 days). After the last drop has been used, you may decide to embark on another series of 42 day treatments or rest for a month before beginning again.
Ingredients:
Aqua (Water), Hamamelis Virginiana (Witch Hazel) Water, Lycium Barbarum (Goji Berry) Fruit Extract, Glycerin, Alcohol Denat., Tetrahexyldecyl Ascorbate, Palmitoyl Tripeptide-5, Wine Extract, Lonicera Caprifolium (Honeysuckle) Flower Extract, Lonicera Japonica (Honeysuckle) Flower Extract, Lavandula Angustifolia (Lavender) Oil, Peumus Boldus Leaf Extract, Citrus Aurantium Dulcis (Orange) Peel Oil*, Rosa Damascena Flower Oil, Boswellia Carterii (Frankincense) Oil, Pelargonium Graveolens (Geranium) Flower Oil, Jasminum Officinale (Jasmine) Oil, Honey, Sodium Lactate, Fructooligosaccharides (D-beta), Quercetin, Glycine Soja (Soybean) Oil, Polysorbate 20, Tocopheryl Acetate (D-alpha), Phospholipids, Cassia Angustifolia Seed Polysaccharide, Sodium PCA, Carnosine (L), Hyaluronic Acid, Sphingolipids, Proline (L), Superoxide Dismutase, Sorbitol, Glucosamine HCI (D), Panthenol (D), Xanthan Gum *Certified organic.

Oraia is safe for all skin types. Do not use if allergic to any of its ingredients.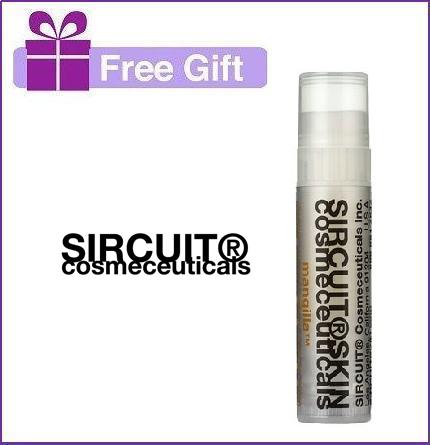 FREE GIFT!
Purchase $125 or more in Sircuit products and get a FREE Sircuit Mangilla Lip Balm- fulll size
A $7.50 Value!
Product Reviews (1 Review)
I have been using this product as a staple for at least ten years.
You can use at night or day or both.
I works on a deep level and if you are consistent using it you will see the results. Siscuit Skin is at the top of the list with a few other brands when it comes to the Rolls Royce of ant-aging skincare. Amazing !!!!!