Sircuit Skin NineOneOne Calming Serum
Availability:

Usually Ships in 1 day & 60 Day Returns

Shipping:

Free Standard Shipping (2-5 days)
Sircuit Skin Nineoneone Calming Serum 1 oz
Nineoneone calming serum is especially formulated to radically reduce redness, irritation, and improve the appearance of couperose skin as well as skin suffering from the effects of rosacea, sun damage, and intensive skin treatments. Provides protection, skin strength, and support as well as delivering antiaging benefits. Comfort sets in and the redness vanishes as it instantly corrects blushing and flushing by strengthening the skin's barrier helping to keep it both cool and calm. This nutrient enhanced serum is the ultimate relief formulation for irritated, compromised skin.
Suitable for all skin types, especially those with red, irritated, couperose and/or fragile skin, and those suffering from the effects of rosacea. ...Ahhhhh.
Benefits:
Calms and soothes irritated skin.
Helps to strengthen capillaries and reduce redness.
Infuses your skin with nourishing ingredients and antioxidant protection.
Promotes healing through cellular turnover.
Helps to increase luminosity and even complexion.
Protects skin from environmental and temperature stressors.
Creamy serum consistency for ultimate relief.
Featured Ingredients:
Granpowder Lumiere (Benzimidazole Diamond Amidoethyl Urea Carbanoyl Propyl Polymethylsilsesquioxane): Diamond core powder, increases luminosity, decreases redness and the appearance of wrinkles as well as reducing the appearance of pore size, evens complexion.
RejuneOx (Perfluorodecalin): oxygen booster, increases the skin's oxygen supply.
Niacinamide: beneficial for acneic skin, soothing, inhibits skin pigmentation, increases clarity, smoothes fine lines/wrinkles.
Olivem 1000 Crystal Skin (Cetearyl Olivate/ Sorbitan Olivate): complex combination of fatty acids that mimics sebum, forms skin compatible and stable liquid crystals which help restore the skin.
NAB Rhodiola (Rhodiola Rosea Root Extract): combats thermal stress, boosts cellular respiration, antioxidant, immune enhancing, helps ward off the visible signs of aging.
Organic Aloe: soothing, helps speed healing.
Sea Buckthorn Extract: rare Omega-7 Fatty Acid, aids in healing troubled skin.
Chaparral Extract: anti-microbial, antiseptic, protective against radiation, powerful antioxidant.
Bilberry Fruit Extract: antioxidant, helps strengthen cappillaries, reduces redness.
Olive Leaf Extract: antiseptic properties, anti-microbial, helps speed healing, helpful for blemished skin.
Aescin (Horse Chestnut Powder): reduces redness, helps reduce swelling, excellent for vein health.
Neutrazen (Palmitoyl Tripeptide-8): anti-irritant, calms and soothes irritated skin.
Beta-Glucan (D): Skin immune support, protects, moisturizes, promotes healing through cell turnover, stimulates collagen synthesis, anti-oxidant.
Alpha Bisabolol (L): soothing, calming, reduces redness.
Kinetin: anti-aging plant hormone, antioxidant, helps repair DNA, helpful for sensitive skin.
Allantoin: soothing, helps speed healing.
Asiatic Acid: reduces redness.
Glycyrrhetinic Acid: reduces redness.
Phytophingosine: naturally present in the skin, effectively reduces the signs of acne, inhibits the growth of micro-organisms on the skin, reduces redness and the signs of inflammation.
Magnolia Extract: soothing, anti-irritant.
Epigallocatechin Gallate (EGCG): potent antioxidant, anti-aging.

Free of artificial preservatives, colors, or fragrance, and always cruelty free.
Ingredients:
Aqua (Water), Benzimidazole Diamond Amidoethyl Urea Carbanoyl Propyl Polymethylsilsesquioxane, Glycerin, Caprylic/Capric Triglyceride, Perfluorodecalin, Niacinamide, Cetearyl Olivate, Gluconolactone, Sorbitol, Hamamelis Virginiana (Witch Hazel) Water, Rhodiola Rosea Root Extract, Aloe Barbadensis Leaf Juice Powder*, Hippophae Rhamnoides (Sea Buckthorn) Extract, Larrea Divaricate (Chaparral) Extract, Vaccinium Myrtillus (Bilberry) Fruit Extract, Olea Europaea (Olive) Leaf Extract, Horse Chestnut Powder, Palmitoyl Tripeptide-8, Pentylene Glycol, Beta-Glucan (D), Bisabolol (L-alpha), Kinetin, Allantoin, Asiatic Acid, Glycyrrhetinic Acid, Phytophingosine, Sorbitan Olivate, Citric Acid, Magnolia Grandiflora Bark Extract, Alcohol Denat., Xanthan Gum, Butylene Glycol, Epigallocatechin Gallate, Dextran, Potassium Sorbate, Sodium Benzoate. *USDA Certified Organic | NOP. Phthalate free.
How To:
Smooth gently over clean skin or affected area once or twice a day. Shake well before use. Caution: For external use only. Please avoid contact with eyes and keep out of the reach of children. For Best Results: Keep out of sunlight and store away from any heat source in a cool, dark place.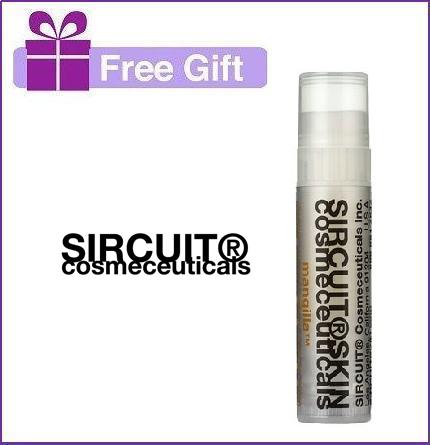 FREE GIFT!
Purchase $125 or more in Sircuit products and get a FREE Sircuit Mangilla Lip Balm- fulll size
A $7.50 Value!
Product Reviews (1 Review)
At first I thought it was weird cause it isn't a normal serum consistency, but it makes sense, giving what it's supposed to do. It did make my skin a little tingly after using it, maybe it's just me. Afterwards, my skin just feels really smooth.

Anyway, my skin is improving, just from a sample of this! It helps more than just sensitive skin or rosacea. I get horrible hormonal acne on my chin and jawline. I'm also really bad about picking at it, which makes it worse. This serum calmed and healed my acne, and I haven't had ANY new breakouts since using it. That alone makes this product a miracle worker for my skin!