Availability:

Usually Ships in 1 day & 60 Day Returns

Shipping:

Free Standard Shipping (2-5 days)
Sircuit Skin Eye Tech .5 oz
anti-wrinkle eye emulsion
Eye Tech is a luxurious eye treatment packed with a powerhouse of anti-aging and protective botanicals, as well as state of the art anti-wrinkle ingredients such as ChronNoline, FiFlow, Ceramide 3, and Echinacea Stem Cells. This precious emulsion is extremely effective at firming and plumping the skin, by reducing the look of fine lines (not just around the delicate skin of the eyes but of the skin on your entire face and neck). This obsession will be your new smooth secret by helping to keep you looking rested, reducing puffiness, and softening lines. Your youthful moisture is restored and surface lines are reduced allowing you to look fabulous at every age. Ready for your close-up?
Benefits:
Rapidly smoothes and reduces fine lines and wrinkles.
Provides intense hydration, instant skin volume, and muscular relaxation.
Helps instantly lift and revitalize the look of tired eyes.
Strengthens and thickens the delicate skin around the eye.
Promotes healing and cell turnover.
Provides both instant and cumulative results
Free of artificial preservatives, colors, or fragrance and always cruelty free.
How To:
Gently smooth on a small amount of Eye Tech around the eye area once or twice a day. May also be applied to areas of concern on other parts of the face and neck. It can be also be worn as an effective anti-aging moisturizer.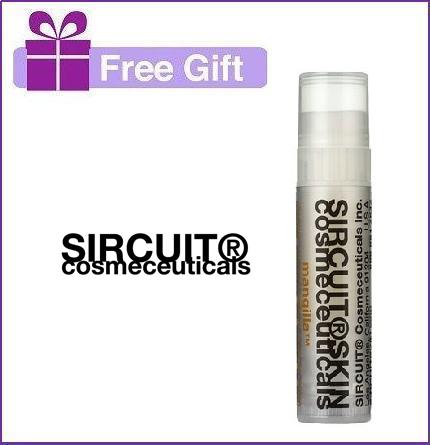 FREE GIFT!
Purchase $125 or more in Sircuit products and get a FREE Sircuit Mangilla Lip Balm- fulll size
A $7.50 Value!
Product Reviews (2 Reviews)
feels great, works well, fast results

This is so hydrating! It absorbs really easy and quickly into the skin. The skin immediately plumps up.. you almost see it working! Fine lines = be gone!