Sircuit Skin Choc-Lip Moisturizing Lip Balm
Availability:

Usually Ships in 1 day & 60 Day Returns

Shipping:

Free Standard Shipping (2-5 days)
Sircuit Skin Choc-Lip Moisturizing Lip Balm
chocolate lip balm

Choclip is soothing, healing, protective. This intensely moisturizing and emollient lip balm restores silky softness while helping to prevent dry, chapped lips.
Benefits
Soothes, moisturizes, and protects
Helps repair and nourish dry, painful, chapped lips
Replenishes lost moisture from exposure to heat, cold, and wind
Free of artificial colors, fragrance, chemical preservatives and always cruelty-free.
Skin Type: Suitable for all skin types, especially those with dry, chapped lips and sensitive skin types.
Directions
Smooth over lips as often as necessary to prevent chapping and maintain softness.
Featured Ingredients
Sunflower Oil - rich with high amounts of Vitamins A, D, and E, also has beneficial amounts of lecithin, and unsaturated fattyacids. Deeply nourishing and conditioning for the skin and it is highly recommended for recipes designed to treat dry, weathered, aged, and damaged skin. It is easily absorbed with a light texture, and can be used on all skin types.
Beeswax - locks in the lips natural moisture and forms a protective barrier against the elements without drying the lips.
Coconut Oil - great for moisturizing and can help serve as a protective layer, helping to retain the moisture in your skin. This oil is very mild and great for people with sensitive skin. Coconut oil is used in natural skin care products for its properties as an excellent humectant, helping to keep moisture in the skin and preventing water loss. It softens and conditions dry skin, and is reputed to prevent stretch marks.
Aloe Vera - increases the availability of oxygen to the skin. The anti-burning and soothing properties of Aloe combined make this an excellent skin care ingredient.
Vitamin E - one of the most well-known and researched antioxidants. If there were an antioxidant hall of fame, vitamin E would likely be its inaugural member. It is fat-soluble and available in various forms, with the most biologically active being Alpha- Tocopherol. A sampling of its substantiated capabilities when applied topically includes: Protects the epidermis from early stages of ultraviolet light damage. Increases the efficacy of active sunscreen ingredients. Reduces the formation of free radicals upon skin exposure to UVA rays and other sources of skin stress. Prevents the peroxidation of fats, a leading source of cell membrane damage in the body. Reduces transepidermal water loss from skin and strengthens the skin's barrier function. Protects the skin barrier's oil (lipid) balance during the cleansing process. Reduces the severity of sunburn. Skin absorbs and maintains levels of topical vitamin E, prolonging its benefits between applications.
Full Ingredients
Sunflower Oil (Helianthis Annus), Beeswax (Cera Alba), Coconut (Cocus Nucifera) Oil, Chocolate Flavor Oil, Vanilla (Vanilla Planifolia) Extract, Aloe Vera (Aloe Barbadensis), Tocopherol (Vitamin E).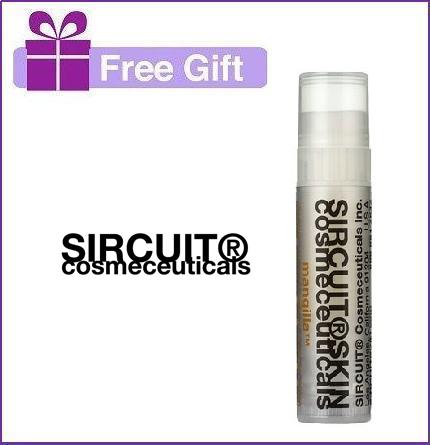 FREE GIFT!
Purchase $125 or more in Sircuit products and get a FREE Sircuit Mangilla Lip Balm- fulll size
A $7.50 Value!
Product Reviews (1 Review)