PMD Personal Microderm Device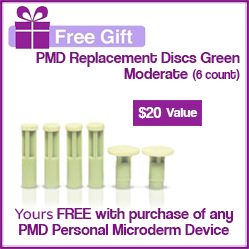 What it is:  PMD Personal Microderm is your at-home microdermabrasion device that provides professional results without the high cost. It utilizes aluminum oxide crystals and a vacuum suction to literally remove dead skin cells and reveal smoother, younger skin.
What it does:  PMD provides a noninvasive form of exfoliation with mild resurfacing to remove dead skin cells from the outer most layer of skin. PMD works to break down fine lines, wrinkles, acne, blemishes, hyperpigmentation and scarring. This process stimulates the body's natural self-healing, promoting the growth of new skin cells.
What you can expect:
    Smoother, younger, radiant skin texture
    Softened lines, wrinkles, scars
    New collagen growth and cell renewal
    Improved skin tone with faded hyperpigmentation, sun damage, age spots, blemishes
    Clearer pores, reduced acne, clearer skin
    Removal of dead skin cells causing better penetration of skin care products, providing maximum benefits
    Overall rejuvenated skin