Osmosis Skincare StemFactor Growth Factor Serum
Availability:

Usually Ships in 1 day & 60 Day Returns

Shipping:

Free Standard Shipping (2-5 days)
Osmosis Skincare StemFactor Growth Factor Serum 7 ml & 1.0 oz
Reverse aging by stimulating new cells and rebuilding collagen and elastin with this revolutionary serum. StemFactor features advanced exosome technology to maximize the delivery of over 600 growth factors and skin proteins derived from adult stem cells that are easily recognized by the skin to improve all aspects of skin damage and aging. This unique lightweight serum inspires the skin for a radiant, youthful complexion.
Size Options:
Key Ingredients:
Growth Factor Enhanced Media - 150+ growth factors that are stable and three dimensional as well as physiologically balanced so your skin can decide when/how to use them. A few include:

HGF (Hepatocyte Growth Factor) - Enhances wound repair and increases the number of macrophages for scar tissue removal
TGF-B, B2 & B3 (Transforming Growth Factor) - Increases new blood vessel formation and collagen production
FGF (Fibroblast Growth Factor) - increases the number of collagen manufacturing cells along with increasing their production levels
PDGF (Platelet Derived Growth Factor) - creates new fibroblasts, increases the number of macrophages, and increases angiogenesis and new cell development
Benefits:
Great for all skin types
Especially good for aging skin
Sensitive for eyelids and lips
Encourages multiple cell type growth to repair and replace damaged cells
Accelerates skin rejuvenation and repair
Promotes younger, clearer skin
Directions:
Apply 1-2 pumps morning and evening
Perfect Partners: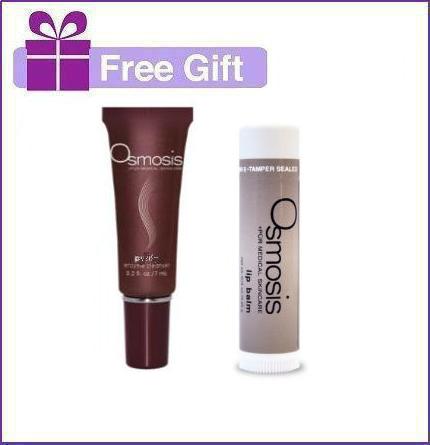 FREE GIFT!
Purchases of $80 or more in Osmosis products get a
FREE Gift
A $14 Value!
Product Reviews (5 Reviews)
This product deserves a 10 Star rating along with the other Osmosis products. These products made a big impact on my skin and also helped with discoloration. Great product line.

Love it and i have noticed my skin improve since i started using it 8 weeks ago

Osmosis will make a difference in how you look.

All of the Osmosis skin care products that I have used have made a big difference in my skin. I was nervous at first to spend the money but now I can't imagine not using their products. The difference is immediate especially around the eyes.

My skin has never looked better!

I was a little freaked out at first because it's human derived, but the customer service reps told me a little bit more about the science and benefits. It was very helpful to be able to talk to someone that actually knew about the product rather than just read off what is on the listing. Great customer service, great product. My skin has never looked better! Thank you Beautystoredepot and Thank you Osmosis!

Only been using for a few weeks but I have noticed that my skin looks and feels so much better. Anxious to see ongoing results!