Osmosis Skincare Renew Level 4 Vitamin A Serum
Availability:

Usually Ships in 1 day & 60 Day Returns

Shipping:

Free Standard Shipping (2-5 days)
Osmosis Skincare Renew Level 4 Vitamin A Serum 1.0 oz
Renew is designed for resilient or conditioned skin types who desire a dramatic restoration of the skin rejuvenation process. The most potent combination of fibroblast stimulators encourages the reversal of the skin aging.
Key Ingredients:
Retinaldehyde (.15%) - Vitamin A, promotes cellular turnover, helps reduce the signs of aging

1,3 Beta Glucan - Promotes healing through cellular turnover, stimulates collagen synthesis and serves as an antioxidant
Fulvic Acid - Potent antioxidant that detoxes the skin, improves vitamin and mineral delivery into the cell and improves protection of proteins and wound healing
Chronoline - Boosts collagen production, activates skin repair and reduces appearance of fine lines and wrinkles
L-Hyaluronic Acid - Natural moisturizing factor, draws water to cells
Benefits:
Great for normal skin types
Especially good for those experiencing accelerated aging and those who have aging skin
Safe to use during pregnancy
Promotes younger skin
Increases nutrient supply and moisture
Epidermal remodeling along with scar tissue removal
Potent Vitamin A treatment serum and fibroblast stimulator
Age demographic typically associated with this preferred Vitamin A is 40-60
Directions:
Shake lightly
Apply 1-2 pumps morning and evening
Recommend starting 1 time a week and building to 2
Perfect Partners: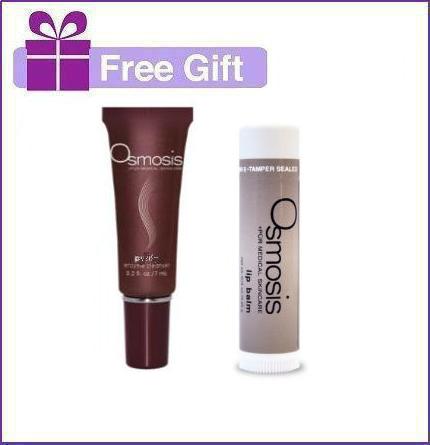 FREE GIFT!
Purchases of $80 or more in Osmosis products get a
FREE Gift
A $14 Value!
Product Reviews (3 Reviews)
I've been told my skin is glowing and I'm 66 years old all because of Osmosis products!

Renew Level 4 Vitamin A serum

I use the renew as part of my daily skin ritual. The Osmosis products have been a game changer for my skin. Highly recommend the Osmosis line.

LOVE this product line! started out with "correct" - the bottle lasted me about 6 weeks (using 1 pump - sometimes 2 pumps usually at bed time - sometimes in the morning too) and worked my way up to Renew. First of all, there is no magic anti aging cure all for wrinkles/lines. Don't expect to see overnight results. What you can expect is a good retinal product that is natural and gentle. Over time you will start to see improvements with your skin. I suffer from hormonal acne breakouts, black heads and combo skin that's either dripping with oil and/or peeling dry - sometimes both at once. My skin was a mess! After about 8 -10 weeks of use, I've noticed a huge difference in my skin and texture. I'm getting fewer breakouts (around my monthly cycle) and my smile lines are fading. The areas of my skin that were not problematic are absolutely glowing! I am a customer for life! use this along with the Clinique acne solutions medicated face bar and with a Clarisonic type brush (I use the Sirius Sonic brush) at bed time - and wash cloth in the morning) and if I need extra moisture, then I'll use a plain facial moisturizer.