Osmosis Skincare Catalyst AC-11 Level 3 DNA Repair Serum
Availability:

Usually Ships in 1 day & 60 Day Returns

Shipping:

Free Standard Shipping (2-5 days)
Osmosis Skincare Catalyst AC-11 Level 3 DNA Repair Serum 1 oz
(formerly Catalyst AC-11 DNA Restoration Serum)
The DNA repair serums are the second most powerful age-reversing serums available. Catalyst AC-11 is our level 3 serum, appropriate for all skin types. It contains a patented formula that activates your natural zinc finger remodeling process, which is a critical part of DNA repair. In addition, this product contains the patented technology AC-11 that is proven to increase DNA repair by 33%. The unique combination of vitamin C, amino acids and minerals also encourages the skin to increase collagen and elastin production, promotes wound healing and improves sun protection. The benefits of these serums can be seen with skin tags, broken capillaries, fine lines and wrinkles, scarring, and pigmentation.
Benefits
Increased skin rejuvenation through DNA repair and cellular stimulation.
Skin Types and Conditions
For all skin types.
Directions
Shake lightly and apply 1-2 pumps morning and evening. May be used in combination with other serums. If twice daily application is not desired, 4-6 pumps may be used as an evening mask to maximize DNA repair activation.

*Color may darken over time, this is normal and will not compromise the efficacy.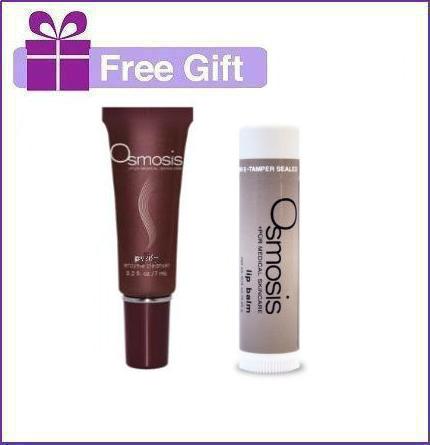 FREE GIFT!
Purchases of $80 or more in Osmosis products get a
FREE Gift
A $14 Value!
Product Reviews (1 Review)
Ok but not worth the hassle

I am 47 and tried this in lieu of Skinceuticals phloretin cf antioxidant serum that I've used for 8 years. It did not work any better or differently. I didn't notice any difference with fine lines, pigmentation, or skin tags as it claims. The texture is sticky and the brown color is fairly annoying because it makes your face a bit orange and stains your clothes. Other reviews have complained about this as well but because I am half asian with olive skin and dark hair, I didn't think it would be a big deal. But, it still was an issue. Maybe I need to use it much longer to see if it works but for the hassle it comes with, I don't think it is worth it. For about the same price, I will stick with my Skinceutical or iS Clinical serums that work better and have no texture/color issues.