Osmosis Skincare Calm Level 2 Vitamin A Serum
Level 2 Vitamin A Serum
(formerly named Calm Rosacea/Sensitive Skin Serum)
The Osmosis vitamin A serums are the most powerful age-reversing serums available. Calm is our level 2 vitamin A serum, designed for moderately-sensitive skin types who desire a dramatic restoration of the skin rejuvenation process. It encourages the skin to calm inflammation, restore the protective barrier, increase skin nutrients and immune repair, rebuild the thin dermis, normalize oil, hydrate, firm and protect skin from UV rays.
This "A" Treatment Serum contains .05% Retinaldehyde
Skin Types and Conditions: Sensitive, redness-prone or rosacea skin.
Size options:
Benefits:
Gently remodels and restores healthy skin.
Directions:
Shake lightly and apply 1-2 pumps morning and evening.<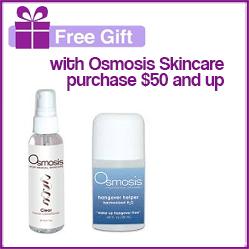 FREE GIFT!
Purchases of $50 & $80 or more in Osmosis products get a
FREE Gift
A $12 Value!