Osmosis Skincare Calm Level 2 Vitamin A Serum
Availability:

Usually Ships in 1 day & 60 Day Returns

Shipping:

Free Standard Shipping (2-5 days)
Osmosis Skincare Calm Level 2 Vitamin A Serum 1.0 oz
Calm is designed for moderately-sensitive skin types who desire a dramatic restoration of the skin rejuvenation process. The Osmosis vitamin A serums are the most powerful age-reversing serums available. It encourages the skin to calm inflammation, restore the protective barrier, increase skin nutrients and immune repair, rebuild the thin dermis, normalize oil, hydrate, firm and protect skin from UV rays.
Key Ingredients:
Retinaldehyde (.0375%) - Vitamin A, promotes cellular turnover, helps reduce the signs of aging
Niacinamide - Provides antioxidant and anti-inflammatory properties, improves epidermal barrier function and inhibits skin pigmentation
Feverfew Extract - Anti-inflammatory through inhibition of proinflammatory cytokines, good for inflamed acne reducing redness while calming and soothing irritated and dry skin
Willow Herb - Anti-irritant, antibacterial, calming and anti-inflammatory agent; proven to be strong that 1% Hydrocortisone
Sea Buckthorn Extract - Enhances cell regeneration and promotes healing; kills Demodex mite which has been linked to Rosacea and is also a potent anti-inflammatory
Fulvic Acid - Potent antioxidant that detoxes the skin, improves vitamin and mineral delivery into the cell and improves protection of proteins and wound healing
Benefits:
Great for all skin types

Especially good for sensitive aging and rosacea-prone skin

Safe to use during pregnancy

Increases nutrient supply and moisture

Calms skin and significantly reduces inflammation

Epidermal remodeling along with scar tissue removal

Preferred Vitamin A when switching over from another brand or are a first time Vitamin A user
Directions:
Shake lightly
Apply 1-2 pumps morning and evening
Perfect Partners: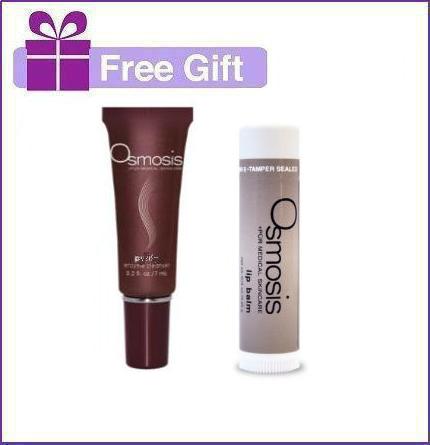 FREE GIFT!
Purchases of $80 or more in Osmosis products get a
FREE Gift
A $14 Value!
Product Reviews (5 Reviews)
Love the Vitamin A Osmosis

This has to be the best vitamin A serum. Does not irritate my face and I get great results using it. Love shopping at BSD! Best company ever.

I love this product, I no longer have major breakouts or the cystic acne. Every time I get cheap and try something new I regret it. I get tons of compliments on my skin and no one can believe I'll be 43 in a month!! I have large pores, sensitive skin, with rosacea (all the women in my family are cursed with it). My skin is changing it was oily and now more dry. This is the first product of this line I was introduced to, I'm a lifer!!!

I have used Osmosis products for a while and love them. I thought I would incorporate this on into my regiment however, it caused me to have contact dermatitis effect on my face. I tried the product again about 2 months later thinking maybe it was some other change in my lifestyle unfortunately it was not and had the same reaction.

Chirally Correct Vitamin A serum Without the Irriatation

My skin is by no means normally sensitive but it can not tolerate Vitamin A topically. I have tried them all! I know how important Vitamin A is in communicating with our cells so I decided to give this a try after reading Dr. Ben Johnson's book. I have been using this since September and my skin does look more even toned while my breakouts aren't 100% eradicated (no cure for acne boo!) they are lessened and don't take as long to heal. I have no irritation from this serum and I even worked my way up to using it twice a day. I hope my skin continues to get better as I know it can take months for Vitamin A to really make a difference.

I haven't used this long enough yet to see full results, but so far, I'm liking it. It calms my skin and it really feels like it's creating a barrier to protect it. Hadn't used retinaldehyde before and happy to say that it didn't irritate my sensitive skin.